About Mura: Japanese & Sushi Restaurant in North Raleigh
Located in vibrant North Hills, Mura has been a long-time mainstay in North Raleigh — the restaurant opened in 2005 and was acquired by Eschelon Experiences in 2006.
What We Serve
Although our restaurant may look different than the last time you visited, you can feel confident that we're still serving the very best Japanese cuisine and drinks in North Raleigh.
Our menu features a wide variety of the finest-grade sushi and specialty sushi rolls, as well as soups, salads, appetizers and other entrees. Some of our most popular menu items include our bento boxes, hibachi, Kobe steak, sushi combos and much more.
Meet Our Chefs
Chef Wol Kim, our sushi head chef, has been with Mura for many years and Chef Matt Lowery has also joined our team. Their combined experience, expertise and culinary backgrounds have truly made our North Hills restaurant what it is today.
Mura has been winning awards for its food for almost a decade. Our North Raleigh sushi and Japanese restaurant was recently given the "Best Sushi" MetroBrave Award by Metro Magazine, as well as the "Best Take-Out Food" and "Best Place to Impress a Date" Diamond Awards by Midtown Magazine.
Chef Wol Kim has played a vital part in our restaurant's success over the years, crafting and perfecting a menu of specialty sushi and creative Japanese dishes that has made Mura one of the most popular spots at North Hills.  Matt Lowery has become a key addition to the Mura team. His contributions have helped maintain a fresh and creative menu.
Chef Kim's Bio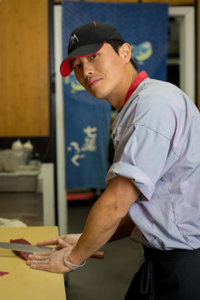 Head Sushi Chef Wol Kim has been an integral part of the Mura family for many years. His talent in the kitchen is truly unparalleled — you'll experience that for yourself when you try any of our sushi, from the most simple sashimi rolls to our innovative specialty rolls. Chef Kim loves interacting with our guests and meeting new people at the sushi bar, so be sure to say hi the next time you're in for a visit!
Chef Lowery's Bio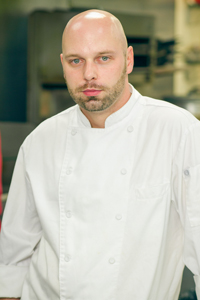 Chef Lowery is a North Carolina native. Growing up on his family's small farm ignited his passion for food – being around it his entire life took the guessing game out of his career path. Matt loved taking beach fishing trips with his family and really enjoyed learning how to clean and cook the fish from such an early age.
Though his first job wasn't in the restaurant industry, in the back of his head he knew the kitchen was home. At age 18, Matt took his first restaurant gig, but soon after headed to The Art Institute of Durham for a culinary degree.
During his tenor at The Art Institute, Matt worked at several mom-and-pop restaurants until he landed here.  Though Matt is the chef in the 'hot' kitchen, he's no stranger to rolling sushi. In fact, you may have had his sushi before, as it's been featured on our menu.  
Outside of Mura, Matt truly loves to relax. Often times, you'll find him exploring Raleigh's incredible culinary scene for research and inspiration, and red wine.
Mura is a sushi and Japanese restaurant located in North Raleigh in the North Hills Shopping Center. Call us at 919-781-7887 to make a reservation!